30-11-2005 AL.be: Animals are not ours to EAT, WEAR, EXPERIMENT ON, USE FOR ENTERTAINMENT!!!
ANIMAL LIBERATION.be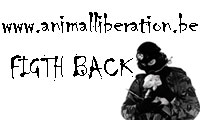 ANIMAL LIBERATION.be online: over 10 BILLION animals are slaughtered for human consumption annualy; Animals suffer and die in cruel, useless experiments for cosmetics; Animals on factory farms are treated like machines,... WHEN WILL THIS MADNESS END??!!

ZERO TOLERANCE FOR ANIMAL ABUSE! FIGHT BACK!

Please, have a look at our site for information, calender, links, vegan-life, ... and ACT for the animals!

AGENDA

Deprecated: mysql_connect(): The mysql extension is deprecated and will be removed in the future: use mysqli or PDO instead in /var/www/htdocs/anarchie/public/agenda/agenda_connect.php on line 3

No Events presently
MORE | SUBMIT
REGULAR EVENTS

Deprecated: mysql_connect(): The mysql extension is deprecated and will be removed in the future: use mysqli or PDO instead in /var/www/htdocs/anarchie/public/agenda/agenda_connect.php on line 3

PASSE-MURAILLE
22/05/2022 - 18:00
Bruxelles
Volxkeuken (check linked agenda)
25/05/2022 - 14:00
Leuven
Chaos Cafe
25/05/2022 - 19:00
Leuven
Volxkeuken
25/05/2022 - 20:00
Gent
VOLXKEUKEN-expo- cafe
26/05/2022 - 18:00
GENT
TRANCHE D'ANAR
27/05/2022 - 21:00 => 22:30
Bruxelles
MORE | SUBMIT